DEVELOP HIGH PERFORMING TEAMS
Bring the best our of your teams. Enhance openness, cooperation and engagement by building trust amongst team members.
In order to help organisations maximise the value of their leadership teams, Double Leap works with a structured yet flexible process that integrates a range of practices to improve the effectiveness of leadership teams.
Our process targets the team as a unit, rather than the individual members. On the contrary, coaching the leader may be a prerequisite intervention for starting team development, and frequently executive coaching with team members occurs simultaneously.
Relationships are what make teams work.
The process of team development includes intervention, during which the development takes place; and evaluation, during which the outcomes of development — in terms of team effectiveness — are analysed.
During the team intervention we look at structures and processes (purpose, goals, roles, communication, decision making) and team dynamics (culture, trust, safety, conflict, personality based strengths/weaknesses).
The goal of the intervention is for members to learn and develop, to increase the team capacity, and last but not least, to improve the company's results.
Effective teams manage the paradox of simultaneously focusing on "it" (delivering bottom-line results and accomplishing other task-focused activities), "we" (fostering effective relationships among team members and team spirit), and "I" (facilitating personal growth and development). This paradox is represented on the picture below, and this is what we also focus on during our coaching approach.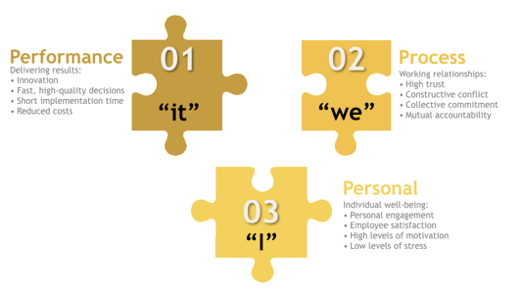 Because relationships matter, from the boardroom to the living room.